Hello dear readers, on my list of posts that I have been meaning to write is this one, all about scrapbooking with kits, why I love it and how I organise it.
Once upon a time I went to my local store with my photos in my hot little hand and bought 2 sheets of cardstock, 3 sheets of patterned paper, an embellishment and a titling product and put them in a page protector. This was the go-to, trendy, awesome way all the cool kids were scrapbooking. That was fine, but after a while I hit a wall. Now I had all these leftover bits of embellishment, partial sheets of paper and other odds and ends and I didnt know what to do with them. I would pick one out and try to figure out what to do with it and all the rest of my small mismatched stash. I didnt enjoy matching my products and couldn't work out what would go with this or that. I hated hunting through everything I owned to find the "right" thing to use. It was the anti-fun.
Enter the Collection Kit!
My next innovation in scrapbooking was a big step in the right direction, I started to pick more than one page worth of supplies at a time. I would pick up an entire collection pack and a few extra embellishments. When I finished the first page, I could make a couple more with the leftovers. Progress!! At this point I shopped more online and bought collection packs on hot specials with one or two matching items. Problem was I would get bored of a collection long before I finished what I had bought. How many layouts did I want to keep using the same patterns over and over?
Lightbulb Moment: Subscribe to a Kit Club
(layout by Pip Prosser on Ali's blog)
I hit jackpot the day I discovered kit clubs. The first club I signed up to was Pip Prosser's Cut and Paste. She was featured on Ali Edward's blog 3 years ago for her "Week in the Life" and I was struck by the fact that she had classic outback Aussie scenery in her images, so I clicked over to her blog and discovered that every month she sold a kit and then showed a series of pages she made with those products and even gave instructions on how she made them. It was an amazing discovery – someone else could do the hard part of picking the products and I could just have fun scrapbooking with them. She has a fun funky style and scrapbooks almost exclusively double page layouts. She reminded me of one of my favourite scrapbookers, Elsie Larsen.
(layout by Pip Prosser)
After about 6 months, I thought I might check out what else there was in the "Kit Club" marketplace, and discovered that it was a booming business in the Scrapbook industry. I am clearly not alone in preferring someone else to pick out the products. My favourite find was Studio Calico, which had a lot of great new products in the kit, nothing too grungy nor too cutesy. It looked so easy to use the mix of products they picked out. The Design Team there was also full of the industry's best, unbelievably good, every one of them amazingly talented ladies. Each month you got the equivalent of a magazine full of layouts to look at using the exact products they sent you. It was my scrapbooking heaven. It gave me a whole new love for scrapbooking, and I have been a subscriber to Studio Calico ever since.
HOW TO: BUY / MAKE KITS
There are 3 kinds of "kits" I use, ones that I have bought pre-made, ones that I have bought as a manufacturer's line and ones that I have made myself from my stash.
1. Buying a kit. I have tried out a few different companies and found some to be a better fit for me than others. There are a LOT out there, and as an international buyer, they are definitely an effective way to spend your money as many of them offer a flat rate shipping option where you can add extra product above and beyond your kit and they don't increase the price of shipping.
A Shoppers Comparison of Five options in the Kit Club Market
Studio Calico has an excellent mix of products and lots of products made exclusively for the kits (e.g. washi you cannot buy elsewhere, or patterned paper that has an exclusive A and B side combo that suits the kit specifically). They also have a huge design team now, so you are sure to find something that interests you in the DT galleries (team for each scrapbooking/card/PL galleries). Studio Calico mixes manufacturers and lines and often includes unusual things from smaller manufacturers that you might not know about otherwise. If you like to have something to keep things interesting, trying out the latest trends, this is a great kit for that. The main downside of SC is that it is often hard to actually buy what you want, because things sell out fast. If you want to get an add-on you need to be there when the clock ticks over or you will miss out. In Australia this means getting up in the wee hours of the morning to order an add-on.
Scrapbook Generations was the club I found next and they do it a bit differently. Each kit comes with everything you need to create a layout, including a picture of the finished layout (*SSC pictures are on the website) and a sketch that you can reuse at a later date. These kits are the most inexpensive and frequently include good ideas on stretching your products further, as they make a double layouts for as little as $5 in the Super Sketch Club. If you like sketches then this club is a great option. Kits are each made from a single line from a manufacturer, they always choose high quality and versatile lines so you can use a lot of different topics for the layouts. There is no stress with this one. You can order what you want without stress and they make it as effortless as possible for you to create layouts.
Citrus Twist is a new kid on the blog, but offers great value and terrific customer service. Trina is very hard working and replies lightning fast to emails, in my experience. They offer shorter subscriptions and they strive to have enough stock for everyone who wants an add on. I think they are a great alternative if you liked the sound of the SC kits, but not the stress of it all. They have scrapbooking kits and project life kits and offer weekly sketches for both of those, which you would have seen me using. I love a good sketch.
Gossamer Blue is another I have tried and loved. This club starts with a colour scheme and the products are all chosen to work with those colours. The kits come in lovely silver 12″ bags, that are awesome for gift wrapping. They also have really good value for money in their kits and have flat rate shipping. Gossamer Blue have a number of activities that I love to be involved with including Scrapbook Improv with Lain Ehmann (which I blogged about here), Project 12 with Davinie and a series of team ups with manufacturers like MME and Elle's Studio. They also have a great offer that if you post your layouts, using the kit, for a bunch of months (maybe 6 months?) they will give you an album to put them all in. Its a really fun motivation to get people posting to the gallery. Lori has a no-commitment subscription, so you can sign up with the ultimate flexibility to cancel without any fees whenever you need to (though you might find it hard to do so!)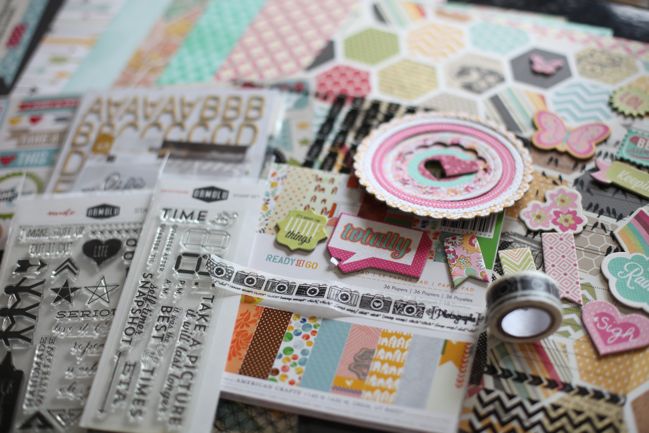 Shimelle's Best of Both Worlds Kits started this year and are a great opt in / opt out option for those who are leery of an ongoing financial commitment. Each month on the 1st she posts a shopping list on Twopeasinbucket, linked from her blog with an affiliate link, and you buy whatever you want to from the list. she then proceeds to scrapbook with the kit all month until it is all used up, and she posts the layouts (more often than not with a process video showing her making them) on her blog. If you want to make exactly what she has, you can, if you want to change it, substitute alternative items, you can just take the inspiration offered and do whatever suits you.
2. Manufacturer Kits
Some of my favourite "kits" are the ones that are simply sold as a line by a manufacturer. I think they have come a long way, especially in the last 12 months, in making their lines look less repetitive. Several companies are well known for keeping their colours consistant so that from one release to the next, everything co-ordinates (Jenni Bowlin is particularly great with this, MME and American Crafts both do this quite a bit as well). The nice thing about using manufacturers lines is that the colours are all a perfect match, the style and "feel" of the products will match as well.
I have bought a few supplies this season from American Crafts Amy Tangerine (Newest line is "Yes, Please" but she has 3 previous lines that are equally excellent) and American Crafts Dear Lizzy (newest line called "Lucky Charm"). These are both huge releases, so I could pick and choose the kinds of products I want to include and have the kit with the papers I liked best, full of stickers because I love to use them so effortlessly, and even with journalling pens that match in the Amy Tangerine line. You have seen both these collections on the blog recently as I am a fan of both and you will see a few more layouts to come I am sure. I try to pick collections that will remain fun for me after quite a lot of use. I have to be very strict with myself on this, since it is easy to want everything, and I know that manufacturers kits are the type I am most likely to donate after a year or two due to lack of use. (Though I have never donated any Amy or Lizzy products I must admit, and I'm not telling who does get donated, it might hurt their feelings *wink*). I have severly reduced the supplies I buy this way in the last 2 years.
Manufacturer Monthly Kits
Some manufacturers offer kits, including SEI, Basic Grey and Websters pages seem to have a monthly "sprinkles" box. There are also a number of kit clubs that offer single manufacturer kits, including The Scrap-room, Personal Scrapper and Apron Strings. This is a good option if you want that kind of kit but don't want the stress of picking it out yourself and like the idea of someone posting it out to you automatically. The Basic Grey monthly kit (which includes instructions to create a double layout and often some extras like a card or a single page layout with the leftovers) is a very good deal. I have split the kit with my sister and it is still plenty enough to make a couple of layouts each with lots of fun new BG products to play with. We bought the kit through Blue Bazaar which is an excellent online store based in Australia.
3. Make your stash into kits
There are heaps of resources available, both free and paid, that give you ideas and instruction on turning your stash into kits. I will link to a couple below, but I will give you my two best tips first for how I usually do this, when I can be bothered instead of using the stuff I have bought pre-kitted. (These are not rocket science, but it is the method I use that works for me when making kits)
Tip 1. Start with a sheet of multicoloured paper and use that as the colour scheme. Match everything else to that sheet of paper one piece at a time. Each time you find something that matches, look through the line, then the manufacturer to find additional likely matches. I usually try to include a variety of papers after this, typically including a stripe, a small polka dot, often one big pattern (usually no more than one unless I plan to use the B side), a couple of smaller more generic patterns (usually B sides), often one sheet of cut apart elements or a design that can be cut up in some way to be used as smaller pieces, some single colour papers.
Tip 2. Think about how you built a page, one product at a time. For me this means patterned paper with maybe some neutral cardstock. Extra paper for layering. Maybe a piece with some elements to cut out like images or journalling boxes. Some letter stickers, often thickers, sometimes more than one font in different sizes. Some larger and smaller embellishments, sometimes borders but not too often, some flat elements, always stickers of some sort. Some embellishment with dimension or texture like wood veneers or something fabric, something small for scattering like enamel dots, mist or sequins and some stamps. By thinking through what you use, you can check when you have added and what else you might still want to include. If you don't know what to put in this list, then check some of the kit clubs above and use their kits as a guide instead.
Although these tips are simple, if you use them as a recipe for making kits, it is not that hard. You have a colour scheme that you can hold in your hand to use to check the colours as you add and you have a checklist of what you might like to include. Of course sometimes you don't have a multicolour paper you want to start from, or for some other reason this system breaks down, so here are three other resources for making kits:
Shimelle Laine (AKA Glitter Girl) has several FREE videos made for Twopeasinabucket about kit creation including this one called Kit me up before you Go Go, this one called Mix and Match Materials, this one called Out of the Box and this one called pick a patterned paper. The most recent one is about making a kit of your supplies to avoid overwhelm – exactly the motivation that lead me in this direction! Check it out here and try the challenge she has set. She also has several excellent videos on using a kit to its last scrap, but that is a different topic for another day.
The other place Shimelle teaches this is in the classes on her website. The most relevant one is Scrapbook remix, (in her own words) "The key is in the mixing and the remixing: first finding a pattern that goes well with something else, then reinventing it by mixing it with a different selection and so on." This class has a lot of content and works with a lot of different collections. Shimelle's classes are always good value for money. They run live (you get an email with the new content each weekday), then after that you can sign up and take it "self paced" any time  You have access to the content forever. Two others worth checking out are Pretty Paper Party, which is about using your patterned papers and is full of ideas about how to put patterns together and The Perfect Collection, which harks back to using Collection Kits effectively.
Amy Tan has a new class which deals with mixing supplies as well, which I am taking right now and really enjoying too, you can find it at twopeasinabucket. I'm sure you will be seeing more work from me inspired by that class in the coming weeks.
This Project Life video from ScrappyJedi (Melissa Stinson) talked about creating a page kit that matches using different manufacturers. It includes a particularly good explanation of how she decides what will work and what she will leave out.
Paperclipping has a number of episodes relevant to the topic of kit making available to members including #209 How to mix patterns, #110 Packing to Scrapbook on your Vacation and #59 Mixing Patterned Paper.
This is a great blog for those of us making our own kits instead of buying them. In their own words,
"If you have ever browsed through those great monthly scrapbook kit clubs and admired their beautiful kits…but knew you needed more supplies, like a "hole in the head"…you know who you are (you're the one with TONS of supplies and embellishments in your ever growing scrapbook stash)…this challenge is for you!

On the 1st of every month here at the Counterfeit Kit Challenge Blog, we will choose a kit from a popular kit club (for inspiration) and challenge you to create a "counterfeit kit", using just the supplies you already own. We will keep the kits we choose fairly current, they won't be more than one year old."
They show examples from each DT member of their "counterfeit" kit based on the inspiration on and then create layouts to inspire you.
This is another monthly inspiration to use your stash by kitting it up, she gives an example kit each month with lots of explanations. This is her description.
Every month there will be a video reveal and photos of a new kit that I (Margareta) have pulled from my stash. You pull similar supplies from your stash. Then we make pages, cards, Project Life pages, One Little Word – which ever project tickles your creative heart – and post images in the gallery. There is no shopping or shipping required for this kit club.
I'm sure there are more resources that I will remember right  after I hit the "Publish" button on this but this is a pretty comprehensive overview for anyone thinking of changing it up and embracing kits.
Why I love kits.
I find that using kits lets me get to the funnest part of scrapbooking as soon as possible. It means I use the products that I have recently bought soon and while I am still excited about them, and it means that I scrapbook HEAPS faster, because I am not wasting time looking for something instead of cutting and pasting and journalling.
I love the challenge of using just what is in front of me and making it work (although the better the kit, the more fun it is to work with). I love that kits which are made from a mix of manufacturers don't feel like every layouts uses the same products.
I really love the feeling of using up my supplies. Maybe I am a bit strange like that, but it gives me a little buzz to finish a package of something because I feel that the money was well spent since everything went onto a page instead of getting stashed for years and then given away. Kits mean I am more likely to keep using the half opened pack till it is finished and I LOVE that!!
Kits are also awesome for on-the-go scrapbooking, which you all know I am a fan of.
That is probably a wrap on my Kit-Love. I hope you have found something useful in this post, or perhaps just a fellow kit-lover? Please add a comment and let me know which is your favourite kit club, if you think I missed one feel free to include your own review of it, if you have any other thoughts on this topic or if you would like more information on anything mentioned here. I read every comment and try to respond quickly to you, particularly if you ask a question. Let's keep the conversation going!
ADDENDUM
Australian Kits: I felt that I needed to add a brief addition to mention a few great Aussie Kit clubs that were posted in the comments. Please feel free to comment if you know of more I have not mentioned here. I have NOT tried all of these, but people have been saying good things about them on message boards and facebook, so its worth taking a look if you want a great aussie kit club.
I have bought from this store for years and find them very helpful and great about getting lots of new stock in regularly. Luise puts together both Scrapbook kits and Mixed Media Kits for subscription. You can add extra things from the store for a flat rate postage (which I love  doing). Kits come with ideas and instructions on how you could use them.
Pip Prosser, from whom I bought my first kit, continues to offer happy fun kits that are great for making lots of layouts, she includes examples of layouts you could make and there are always lots of embellishments, alphabet stickers and other yumminess in the kits. She now offers a project life kit too, which even includes the page protectors! She blogs her own PL using the kit each month. I feel her kits are good value for money, and she and I clearly have similar taste, because I love what she includes.
Kayla which offers monthly kits and has a guest designer each month on her blog showing ideas to use it. Recently, she offered the above Project Life kit, created as a charity kit where all the profit goes to Live Below the Line charity event. I think it looks like an amazing PL kit and as it is completely sold out, I can't wait to she what she does next month.
Jodie from Polka Dot creative makes adorable little mini kits which seem perfect for Project life. They look good if you don't want to pay a lot for a big kit you might struggle to get through each month and just want a little bit to work with on your project life spreads, or you could use them in regular layouts too, I'm sure. Its great how she includes some handmade items in each that are exclusive to the kit.
I am quite new to Scrapbook Savvy, so I can't relate personal eperience, They seems to offer 3 kits a month, a boy themed, girl themed and neutral kit. I'm not sure if the prices are standard, but this month the neutral one was $34 and the boy themed was $20, so I assume you can get the neutral one and then theme it to suit your scrapbooking. I love the way the kits include partial packages of stuff, so you get lots of variety. They also seem to have a pretty active blog with challenges to encourage you to use your kit.
Scrapbooking from Scratch Kits
Another store I am visiting for the first time, but they have a different approach to kits. They have 2 kinds of kits, their designer kits, which are a selection from a single manufacturer including some embellishments for a great price point, or their newer everyday moments kits, (pictured) which are a response to the popularity project life and seem to include about enough for one project life spread, including paper, embellishments and sometimes even stamps. They look like a terrific deal at around $10 to me, I will be keeping my eye on those ones since they seem to all be sold out right now!
Raquel puts together a monthly kit for subscription or individual sale at A Piece of Cake designs, and she adds some extra products that coordinate in the shop. She has a blog with guest designers each month showing ideas of how to use the kit. Checking out her past kits in the shop, she seems to have a great mix of textures and colours in each kit.
Final note: There are some questions and answers in the comments section of this post. I will be happy to continue the discussion, so please add any ideas or questions you have there and check out the additional information already in the comments about kit creation  with different types of pattern paper and thoughts on maximising your postage dollars if you subscribe to overseas kits.